Rex Fabrics is "Lit'rally Buh-nanas"
One of the missions while in Miami was to find THE wedding dress.  In true Jennie-fashion, I printed up about 20 dresses that I had found in magazines and online, totally prepared.  I went to almost every store in Miracle Mile with my very patient cheering squad.   I would walk in, show the bridal salon sales person the print-outs, and they would inevitably say, "oh those are pretty, but we don't have anything like that."  With the exception of a handful of dresses almost everything looked the same: strapless on top with a duvet cover garnish on the bottom and tons of "ruching" (I had to google how to spell that).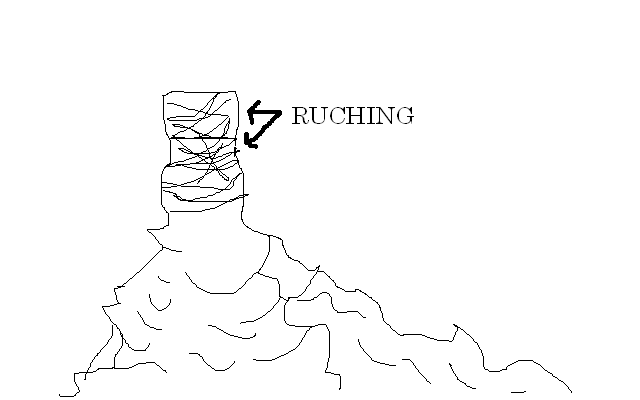 Don't get me wrong, most of these dresses were beautiful but they were all the same, and not "me."  I don't want a dress that would detract from the purpose of the event, and I don't want something that looks like something you'd throw on your bed in the winter:
So I would ask the woman helping me, "do you have something maybe with straps or something? And less ruching?  And less poofy."  So the bridal staff person would bring something like this:
So I would say something like "do you have something a little less Miss Venezuela?" "maybe a little more simple" and then my grandmother would say something in agreement like, "jes, somsing wis less bling bling" (yes, something with less bling bling).  You know there is a communication failure when "bling bling" is used by someone who has learned English as a second language.  Speaking of bling, there was even one dress that had an ARROW made of bling pointing towards the procreation zone.  Is this necessary?
The women that work at the stores, for the most part, know absolutely nothing about dress making.  They didn't know what the fabric would look like if you chose it in an alternate shade of white, they didn't know which fabrics photographed well, they didn't know what shades would look good on ones skin tone, and they definitely didn't make any fabulous suggestions on what would look good, a-la Randy on Say Yes To The Dress.  I personally think that individuals selling garments for $3000+, that one will wear for maybe 7 hours, should know a little something about the product. *(See Disclaimer)
I tried on approximately 187 dresses in varying shades of ivory before I decided to check out Rex Fabrics (hereinafter Rex).  I have a friend that works there, and had heard they employ a team of seamstresses that can make you a dress that is limited only by your imagination's ability to dream it up.  I walked into Rex and was instantly blown away.  The amount of fabrics they have will blow your mind.  The place is literally floor-to-ceiling fabrics.  And not just any fabrics, beautiful fabrics you just HAVE to touch to believe.  **(See Disclaimer)  And not only can they can make you anything you want, the staff knows everything there is to know about fabric.  Next time I'm in Miami I'm going to spend an entire day at this place just looking at what they have.  Here are some pictures I took while inside.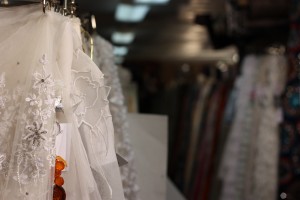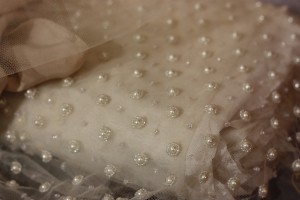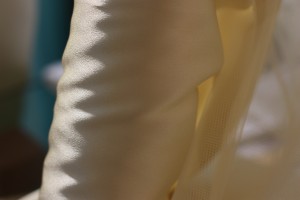 * They weren't all abysmal idiots.  The women at Chic Parisien, J del Olmo and Miami Couture Bridal were more helpful than the individuals at the other bridal salons I went to.
** Rex Fabrics didn't pay me to say these things. You really must see it to believe it.